Soap - Natural (Handmade)
00096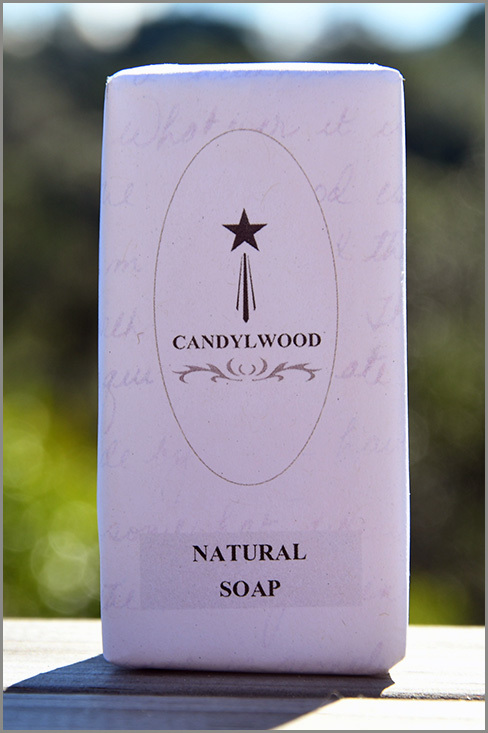 Handmade Soap (100g) - 100% Natural - Pure Essential Oil (Lime, Lemon Verbena. Rose Geranium, Cape May, Patchouli, Amyris (Candlewood Tree)
The Candylwood soap is 100% natural, environmentally friendly and made by Rae and Dino Conterio of African Bliss in the Crags. No artificial fragrances, preservatives, stabilizers or colourants are used. Each bar of soap is made by hand, right down to the cutting and wrapping and making it totally unique.
Rae adds the Candylwood essential oil blend to her blend of oils when making the soap. The subtle fragrance

lifts the mind beyond the ordinary and into creative thought. It is refreshing and uplifting yet is inclusive, intimate and personal. It influences gentle conversation, generosity and balance. It inspires the aspiration to be spectacular.
Packaging

The soap wrapper is printed on recycled paper. Candylwood strives to be kind to the earth. Admittedly we shall get it wrong at times. But how do you know until you know? Then we shall do it differently.
Product Details:
Candylwood Essential Oils: Lemon Verbena, Lime, Patchouli, Cape May, Rose Geranium, Amyris (Candlewood Tree)
Ingredients: coconut oil, olive oil, grapeseed oil, pure sunflower oil, palm oil (sustainable) and the Candylwood essential oil
blend.
Weight: 100g
Size: 88 x 44 x 25 mm